So, finally, I'd been introduced onto the gay scene in Manchester and I began going out. There was a small group of us, including an older guy called Tim. He was a handsome barrister -- tall and blond -- who later emigrated to Australia. We used to go to Stuffed Olives and the clubs Heros, Manhattan and High Society.
Heros used to scare me because it was full of 'clones' (some nearly 30 years old for Gods sake!). At the end of a Saturday night, I would hear them say to each other: 'see you tomorrow afternoon' and I would imagine that it was almost certainly for an orgy.
Now, of course, I know it's much more likely they were just getting together for Sunday afternoon tea and cakes. Manchester has never been that racy... Funny the ideas we have at that age: imagination run wild!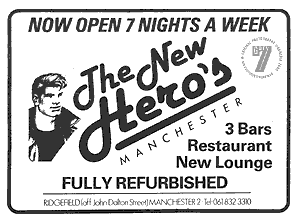 In other ways, Manchester was quite different back then. Britain was being run by a Conservative Government under Margaret Thatcher, who seemed determined to turn the clock back as far as rights for gay men and women were concerned. While hardly a day went by without some newspaper or other featuring a scare story about how evil homosexuals were taking over.
This still continues to a lesser extent today and gay rights campaigner Peter Tatchell has likened this 'stereotyping and scaremongering' about gay people, to the way the Nazis demonised Jews.
THE HOSTILE POLICE CHIEF, BUT GREAT GAY VENUES
Back in the 1980's, Manchester's City Council was supportive of gay men and women, but this was at odds with the city's Bible-bashing Police Chief Constable -- James Anderton. He claimed that he had 'heard' God telling him to close down sex shops in Manchester's red light district and he said that gay people were swirling around in a cesspool of their own making. The irony is, just a couple of years earlier, Anderton had been hunting down the 'Yorkshire Ripper' who had 'heard' God telling him to kill prostitutes...
So, there was a feeling that we were being barely tolerated and that things might get much worse. Of course this is why there was such a great sense of community at the time. Being gay in Manchester was a little scary, like being an outlaw, but also tremendous fun.
In those days, the bars and clubs were spread out across the city centre, with some in the classy part of town near King Street and Deansgate. These far-flung venues had to make more of an effort to attract custom and there were some great one-off theme nights...
I bet there will be men of a certain age reading this who, even now twenty years later, remember one particular evening -- 'VE Night' at Stuffed Olives, when everyone wore military uniform. Stuffed Olives was our favourite bar. It was run by two guys: Peter and Clive (who was known as 'Olive' for obvious reasons).
The pubs and clubs back then were wonderful: warm, welcoming and safe. In those days, no straight man would be seen dead in a gay bar. So there was no trouble. They were full of gay men and women (and the occasional straight woman) many of them with lots of eye make-up and huge dyed hair. It was the early '80's -- the decade that taste forgot. The music was Hi-NRG and Wham.
Back then, no one took photographs inside gay bars and clubs. It simply wasn't done. Too many people were in the closet. So, sadly, I don't have any pictures and I imagine very few exist from those days.
But back to the coming out story... Even though I was now fairly 'out' by this time, I hadn't met anyone as a boyfriend. I was 21. Around about this time, I came out to my best friend Jane. She was pretty surprised and didn't know what to make of it at the time, but we are still good friends today.
I was living in a single room in a house full of students. On 9 November 1982 I watched the first episode of the BBC comedy The Young Ones. It seemed strangely relevant, especially as I also had a rather odd Polish landlord! Many years later I discovered that the series was based on Rik Mayall's real-life student house which was just down the road...
CHRIS
One day, Alan, my straight friend who lived across the street, returned from a trip down south with the news that he had told his best friend Chris about me. He said that Chris, who was supposedly straight, wanted to meet me, as he'd never met anyone who was gay before. Naive though I was, I thought this sounded rather suspicious.
One weekend, Chris drove up to Manchester and we were introduced. He was a couple of years older than me, shorter, in good shape and quite good-looking. Finding myself alone with him for a couple of minutes, I asked him outright if he was gay. He said 'yes' but nobody knew.
There was little opportunity to be by ourselves that weekend. After he had returned home, we talked on the telephone and arranged to get together at Easter, when we drove up to my parent's holiday cottage out in the country.
We had a great time up there, although I think it's fair to say that the 'first time' wasn't brilliant for either of us. I particularly remember us driving around the country lanes in Chris's big black car, with Michael Jackson's 'Billie Jean' playing. He was one of those young guys who lives for his car.
Chris came up to Manchester to see me a couple of times after that and finally he came out to Alan. Like me, he couldn't be bothered with all the pretence. Needless to say, Alan was gobsmacked (as we say in Manchester).
But, we found it difficult to keep a long-distance relationship going and, by June, I was single again. I did meet Chris again about two years later, but haven't seen or heard from him since. Chris if you are out there, get in touch.
Get in touch
Full details on my contact page.