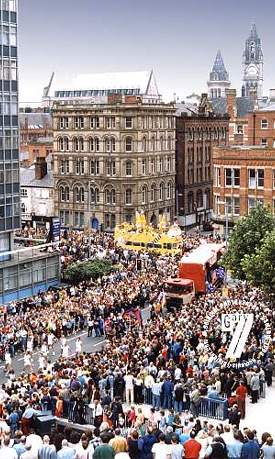 ABOVE: Manchester's 1998 Lesbian
& Gay Mardi Gras parade makes its
way to the gay village area

BELOW: Canal Street, Mardi Gras 1999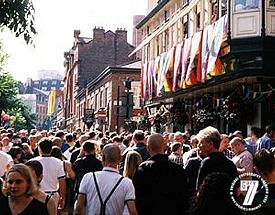 You can find my general information about Manchester here.

Last updated on: June 8, 2001
GAY MANCHESTER
Manchester has a large gay community -- which has grown in part due to continued support from the City Council over the last 20 years.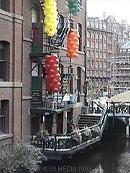 The gay area now focuses on the area around Canal Street though, in years gone by, it was spread out more.

In the 1990's, the annual Lesbian and Gay Mardi Gras event become one of the UK's largest festivals. However it lost sight of its original charity-raising purpose and, in 2000, was replaced by GayFest.

Manchester has a wide variety of different gay bars, clubs and businesses and Canal Street has become hugely popular with the general public.