Mardi Gras, GayFest, Europride 2003 & Manchester Pride 2004 & 2005
Manchester's annual gay event began small and with the best of intentions. Now businesses make tens of millions, the public pays a fortune and less goes to good causes


< BACK TO PART 1
GAYFEST 2001:
the money raised by various venues:

PINKWORKS - £18104.50
HOLLYWOOD - £7719.65
CRUZ/METTZ/NAPS - £6041.60
VIA FOSSA - £5712.00
SPIRIT - £4665.10
NEW UNION - £4234.80
VANILLA/EVENTS - £4124.60
UNI CHALLENGE - £3298.00
ESSENTIAL - £3293.40
THOMPSONS - £3285.70
MANHATTAN - £2433.32
PARADE - £1892.70
COMPOUND - £1867.50
COMPANY - £1838.40
PRAGUE 5 - £1677.90
PADDYS GOOSE - £1581.50
WOMENS AREA - £1497.12
CHURCHILLS - £1358.00
bERLIN - £1312.40
PARADISE - £1142.00
POPTASTIC - £1131.00
REMBRANDT - £1128.80
TREE OF LIFE - £1100.00
VIGIL - £1003.10
MANTO - £911.80
WELLS FARGO - £770.70
BAR 38 - £761.90
BARBELOW - £683.70
BAR MED - £484.30
HELLFIRE - £450.00
PIRANHA - £447.60
GAIA - £423.70
BAR RISA - £421.30
TAURUS - £351.60
YATES WINE LODGE - £335.54
RETRO BAR - £301.60
NEW YORK - £264.00
VELVET - £210.10
SLUG/ LETTUCE - £141.90
HOLLYWOOD HOTEL - £137.30
BULLS HEAD - £116.60
CLONE ZONE - £53.80
ELECTRIC TATTOO - £6.30

MARDI GRAS 2002:
the money raised by various venues (totals on 2 Sep 2002)

LARGE BARS
£4,607.08 The Hollywood
£4,566.30 Via Fossa
£2,788.25 New Union
£2,502.81 Spirit
£2,019.70 Churchills
£1,759.33 The Rembrandt
£1,386,99 Prague V
£1,324.64 Bar 38
£802.96 Slug & Lettuce
£758.06 Bar Med
£347.38 46 Canal Street

£22,863.50 Total

MEDIUM BARS
£1,987.76 Metz
£1,723.89 Thompson's Arms
£1,101.35 Bar Baa
£1,090.73 New York NY
£820.89 Wells Fargo
£773.83 Bar Risa
£705.14 Gaia
£20.93 Tribeca

£8,224.52 Total

SMALL BARS
£1,712.94 Vanilla
£1,514.85 Company Bar
£1,397.09 Velvet
£1,375.53 Taurus
£695.25 Paddy's Goose
£483.90 [email protected]
£186.01 Barbelow

£7,365.57 Total

CLUBS
£5,574.09 Cruz 101
£4,694.84 Essential
£2,412.08 Legends

£12,681.01 Total

ONE NIGHTERS
£3,736.00 Uni Challenge (more to come)
£1,287.06 Vanilla Club Nights
£1,105.73 Paradise Factory
£1,090.00 Poptastic
£474.00 Sugar Pops
£360.00 Hellfire
£200.00 Homoelectric

£8,252.79 Total

ALL THE REST
£5,014.02 Volunteer Collections
£390.64 Clone Zone
£154.11 Hollywood Hotel
£28.31 Northern Waves
£26.44 Basement Sauna
£6.87 H2O Sauna

£5,620.39 Total

£65,007.78 Grand Total


EUROPRIDE/MARDI GRAS 2003

Operation Fundraiser figures:

£371,600
Ticket Sales

£15,610
Other Fundraising at EuroPride: (Parade, Vigil, nightclubs etc)
-----------
£387,210 TOTAL INCOME

LESS
£200,000
Contribution to EuroPride to pay for the security and costs of the "Big Weekend"

LESS COSTS
£30,341
Tickets, Wristbands and Box Office
£12,314
Staff Member and Admin
£16,865
Advertising, Marketing and Information

£127,690
TOTAL AMOUNT RAISED

I contacted the Festival Organiser several times between January and August 2004, by e-mail, mail and telephone. But she was unable to give me any detailed breakdown of that £200,000 'contribution' cost.

In March 2005 finally I was given a breakdown of Europride 2003 expenditure. Total costs were £556,000.

I was told by the Festival Organiser that there were no figures for venues in 2003, as funds were raised through the wristband. However, the Operation Fundraiser site later published this info.

I don't know if any of these collections financed the costs of Europride. Communications tend to go dead when you start asking about costs. But it does give an idea which venues are doing the most.

Date: 31st Mar 2004
Money raised so far in 2003-2004

April 2003

Poptastic's 7th Birthday Tuesday 1st April raised £1953.40
Bender @ Essential Saturday 3rd April raised £1521.35
Dabble @ Sankeys soap Wednesday 9th April raised £42.78
Legends Saturday 26th April 2003 raised £385.00

Easter Weekend 18th - 20th April
Churchills raised £264
Via Fossa raised £1879.06
Rembrandt raised £197.73
Cruz 101 raised £796.07
Poptastic raised £500.00
Sugarpops raised £350.00
Vanilla raised £240.45
Legends raised £213.85
Basement Sauna raised £18.43
Donation £50.00

May 2003

Bender @ Essential Saturday 3rd May raised £1654.16
Bears Weekend Saturday 3rd May raised £272.57
Legends Saturday 10th May raised £421.00
Taurus Sunday 17th May raised £121.48
Poptastic Saturday 24th May raised £323.65
Via Fossa Sunday 25th May raised £180.18
Spirit Sunday 25th May raised £900.12
Heat Sauna tin raised £12.80

June 2003

Bender @ Essential Saturday 7th June raised £1357.04
Taurus 12th June raised £150.10
Essential Birthday weekend Fri 20th & Sat 21st June raised £2072.58
Legends Saturday 28th June raised £345.00
Collection Tins
Bar Below £93.64
Churchills £14.57
Thompsons Arms £21.96
Rembrandt £51.72
46 Canal St £15.74

July 2003

Bender @ Essential Saturday 5th July raised £1304.28
Poptastic 12th July raised £700.00
Legends 26th July raised £239.28

August 2003 Non Europride fundraising!

Bender @ Essential Saturday 2nd August raised £1514.14
Legends Saturday 2nd August raised £365.00
Collection Tins
Churchills £32.42
Rembrandt £43.49
Prague IV £89.23
Gaia £27.87
Eden £31.39
Velvet £16.68
Olive £16.56
Tribecca £9.00
Thompsons Arms £20.71
46 Canal St £2.69
Spirit £32.21
Taurus £26.00
Heat Sauna £38.14
Basement Sauna £84.53
Wells Fargo £10.49
Europride Office £22.68
Clone Zone £91.57
H20 £58.53
Bar 38 £67.32
Velvet £43.40

September 2003

Bender @ Essential Saturday 6th raised £1221.69

October 2003

Bender @ Essential Saturday 4th raised £1311.63
Clone Zone Fetish night @ Via Fossa raised £310.71

November & December 2003

Bender @ Essential Sat 1st Nov raised £1433.07
Coyote's Fundraising night raised £1336.37

World Aids Day Fundraisers:
Hollywood Showbar raised £2609.24
Vanilla raised £319.27
Queer Bar raised £706.17
Prague V raised £376.51
Essential raised £1605.62
Thompsons Arms raised £317.57
Spirit raised £344.16
Manto Breakfast Club raised £412.00
Baa Bar raised £209.90
Poptastic raised £860.46
Rembrandt raised £123.31
Via Fossa raised £248.20
Clone zone raised £211.69
Paddy's Goose raised £35.85
Taurus raised £84.14
Cruz 101 raised £1070.00
Basement Sauna raised £600.00
Tom Thumbs raised £280.00
Essential Bender raised £1509.08
New Union raised £433.17
Red Ribbon Collection raised £1536.56
Candlelit vigil raised £742.23
Health Authority collection raised £36.64
Donation £23.00
Donation £20.00

Essential Sat 20th Dec raised £487.99
Via Fossa Mon 21st Dec raised £tbc
SCANDAL IN 1999

In 1999, the event organisers hit on the controversial idea of a 'pledgeband' -- a bright pink wristband costing £10, which everyone had to buy and wear to enter gay pubs and clubs during the event.

If you raised any objection to the £10 pledgeband or asked for a reduced-price concessionary band, the organisers would attempt to make you feel mean. Didn't you realise that it was all to help good causes, they would ask. Even if you were unemployed, they would suggest you should pay the full-price to help the charities.

The pink bands didn't work. They made people a target for gay-bashing and a large number of hetrosexuals seemed to be in the bars and clubs without a band. It almost seemed to be a 'gay tax'. Ironically, some of the straight people who wore a band got 'gay-bashed' too.

There were many rumours: of hundreds of bands being given out for free to those who knew the right people; of politicians booking hotel rooms that were charged to Mardi Gras, rather than travel a few miles home...

Afterwards it emerged that, despite a massive income (£700,000 according to one source), there was no profit. It had all been spent on 'running' the event, leaving no money for the charities.

The organisers had spent £25,000 on stars and performers, £21,000 on a video screen, £12,000 on fireworks and who knows what else? The organisers said security also cost more in 1999, following the bombing of the gay pub Admiral Duncan in Soho (external link/cached version) in April of that year.

People across Manchester (gay and straight alike) were absolutely furious and the rather arrogant Co-ordinator of the event was questioned on local television. But it seems there was never really any satisfactory investigation nor explanation for what happened to all that income.

To give just one example of the kind of question that I never saw answered... Who paid the wages of the Co-ordinator? He seemed to be linked to the City Council and I understand he also organised the Irish Festival.

Did the City Council pay his wages? Or did they come out of Mardi Gras money? Were his wages paid fully from Mardi Gras funds, or just partly as he was working on other projects too? It is interesting to consider this in the light of developments in later years...

In December 1999, Manchester's gay businesses, charities, community organisations and members of the public, met and decided it must never happen again. One thing that came out of this was the annual publication in magazines and on the Internet of the amounts raised by each venue and the costs.

In its official promotional literature, Manchester City Council boasts that the 1999 Mardi Gras provided an 'estimated £20m boost to the economy'.

SUCCESS IN 2000 & 2001

GayFest -- a smaller and more gay-friendly event -- was planned and took place on August Bank Holiday 2000. With the promise: 'we guarantee to you that every penny donated will REALLY go direct to the charities'. £105,212 was raised for the good causes.

In 2001, once again, GayFest was successful in raising money for charity. Originally I heard the amount was £70,000, but this gay.com article (archived version) says more than £100,000. Does anyone know? One of the ways they raised money was by asking for a £1 donation on the door of each venue.

However in an article, 'Gloria Gaynor Gayfest fiasco' (29 August 2001), the Manchester Evening News reported that City Council Trading Standards were to investigate why 'up to 10,000 fans hoping to see the disco diva were disappointed'. They had all paid £15, but it seemed that Gloria Gaynor's management team had never heard of the event and there was no booking.

Councillor Pat Karney, town hall spokesman on gay issues, was quoted as saying he had been 'inundated with complaints'. It seemed that war was breaking out between the City Council and the organisers and some of it was rather petty-minded...

On 24 September 2001, The Independent newspaper reported on attempts to bring Europride to Manchester in 2003 and revealed that relations between the organisers and Manchester City Council had reached a new low point. The City Council had declared that Europride might not be welcome and the organisers had considered moving the event to a neighbouring town (Trafford, Bury or Salford):

The article continues to say that, after it fell under 'the aegis' of the City Council in 1998, many people felt that the gay element was being removed by 'municipal influence'. Especially when the name of the events was changed to remove the words 'gay' and 'lesbian':

'They wanted to make the event more of a party for Manchester,' according to Julian Lyons, a Europride bid co-ordinator.

The article continues: 'Manchester City Council's representatives on gay and lesbian issues are demanding greater involvement than they are being offered by the gay community if they are to support the Europride bid.'

In April 2002, the Manchester Online website reported that GayFest organiser Julia Grant had sold her bars and had left the UK. So the 2002 event reverted to the jinxed name 'Mardi Gras'.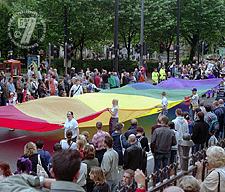 2002: THE ON/OFF/ON MARDI GRAS

In the week leading up to Mardi Gras 2002, it emerged that there was a dispute between the organisers, the City Council and the Police over safety and, with just days to go, the event was officially cancelled.

Was this a deliberate attempt by 'certain parties' to sabotage Mardi Gras because they had been excluded from the running of it in 2000 and 2001? Some people thought so.

It is interesting to note that, in 2004, Manchester City Council caused divisons within the city's Caribbean community by encouraging and 'sponsoring' a new, more commercial, Caribbean Carnival. This seemed to be an attempt to destroy the existing Caribbean Carnival that had run for the previous 37 years.

However, so far, it has failed. Manchester still has two Caribbean Carnivals each year: one in July and (the City Council sponsored) one in August.

Read more here: Battle of the carnivals (external site) and note how the brand new Caribbean Carnival 'immediately won financial backing' from Manchester City Council.

Back to Mardi Gras 2002... On the Thursday (the day before Mardi Gras was due to start) it was announced that it was back on again. Though, unfortunately, this was too late for some people and for one major club night at The Printworks, which remained cancelled.

One welcome change in 2002 was that the money to run the event was raised beforehand by the Village Business Association and the charities were directly involved in the fundraising during it.

A rather-illiterate press release from George House Trust (archived version here), dated 18 August 2002, mentions 'Operation Fundraiser' and says of it:

'Cutting out any uneccessary (sic) extra structures has meant that for the first time 100% of what (sic) is donated over the weekend will go to charities with noting (sic) deducted for administrative expenses or the cost of the event.'

The event produced £65,000 for charity. The Mardi Gras website lists total costs as £106,000, including a £13,000 charge by Manchester City Council for cleaning the streets during the three-day event.

EUROPRIDE 2003 & MANCHESTER PRIDE 2004

With the 2002 organisers conveniently discredited and Manchester City Council back onboard in a big way, this philosophy of transferring the costs to the gay public gathered further ground in 2003. This is when the event seemed to fall into the hands of a group of people who were extremely adept at manipulating facts, figures and the public to get what they wanted.



Some of Manchester's businesses and the City Council didn't like smaller events. They liked the £20m that was brought into the City back in 1999 by that huge, not-very-gay-friendly Mardi Gras.

The problem was, the businesses and City Council didn't want to pay more to fund a bigger Pride. They wanted the gay public to pay for a large part of it. But how could they persuade the public to do that?

Something rather devious was cooked up...

Operation Fundraiser at Pride in 2003

In 2003, Manchester hosted Europride. Ten days of events that ended with the Mardi Gras weekend.

A much bigger event and, suddenly, there was less separation between the funding raised to cover the running costs of Pride and the charity fundraising.

The pledgeband/wristband returned in 2003. A 'poll-tax' on anyone who wanted to enter Gay Village bars and clubs over the Bank Holiday weekend.

Operation Fundraiser collected £387,210 from wristband sales and collection buckets, but had agreed to hand over £200,000 that it collected at Europride 2003, to cover the costs of running the event. Operation Fundraiser spent a further £59,520 on its own costs (see side column) leaving just £127,690 for good causes.

So, basically, the names of the charities involved in Operation Fundraiser were being used as a lever to get the maximum amount of money out of the public for running costs.

And this arrangement meant that all kinds of clever phrases could be used in the publicity material. For example: 'all ticket sales for the weekend go directly to Operation Fundraiser'.

As the public had been told the previous year that 100% of the money collected by Operation Fundraiser would go to charity, the new arrangement was misleading to say the least. A huge lump sum of money that had been given by the public to a group of charities was effectively handed over to the tourist board for Manchester (see below).

This was a record amount (£127,690) raised for charity. But not that much more than from the much smaller and free GayFest back in 2000, when £105,000 was raised.

Just 30% of Operation Fundraiser money went to good causes in 2003

The bottom line is that the public were giving much more money. Yet only about 30% of the price of your wristband in 2003 actually went to the good causes. The same applies to any money you put into Operation Fundraiser collection buckets. Most of it went on increased running costs.

Total costs in 2003 were astronomical compared to 2002. £556,000 in 2003 and just £106,000 in 2002. The organisers say this was because it was a ten-day event instead of a long weekend. I'm not convinced...

The spirit of openness, that the public had demanded after the disaster of 1999, had now gone. Suddenly it was difficult to get figures. When I wrote, I was asked 'why' I wanted to know. I was bounced around from one person to another. Emails and letters went unanswered.

Sixteen months after the event finished, and after asking many times, finally I got a breakdown of costs. It emerged that there were no separate accounts for Europride 2003. It was all part of the accounts for 'Marketing Manchester', which describes itself on its own website as 'the Tourist Board for Greater Manchester'.

Interesting to see, then, that £71,136 was spent on marketing. An incredible £31,136 on UK marketing and £40,000 on international marketing. That £40,000 came from a grant from the Regional Development Agency. Compare that to the previous year when total costs for the entire Mardi Gras event were only £106,000...

When you consider that only about 36,000 tickets are sold each year, and only about £130,000 is raised for good causes, you can see how extraordinary this marketing cost is. Who is the event being 'marketed' to? Surely not the gay community, as Manchester Pride is known about, far and wide, in the UK and around the world. Odd too, that despite this huge spend on marketing, attendance figures seem to be going down.

All content is © Copyright GarySevenUK.com 1999-2006. Read more
here