Mardi Gras, GayFest, Europride 2003 & Manchester Pride 2004 & 2005
Manchester's annual gay event began small and with the best of intentions. Now businesses make tens of millions, the public pays a fortune and less goes to good causes


< BACK TO PART 2
GAYFEST 2001:
the money raised by various venues:

PINKWORKS - £18104.50
HOLLYWOOD - £7719.65
CRUZ/METTZ/NAPS - £6041.60
VIA FOSSA - £5712.00
SPIRIT - £4665.10
NEW UNION - £4234.80
VANILLA/EVENTS - £4124.60
UNI CHALLENGE - £3298.00
ESSENTIAL - £3293.40
THOMPSONS - £3285.70
MANHATTAN - £2433.32
PARADE - £1892.70
COMPOUND - £1867.50
COMPANY - £1838.40
PRAGUE 5 - £1677.90
PADDYS GOOSE - £1581.50
WOMENS AREA - £1497.12
CHURCHILLS - £1358.00
bERLIN - £1312.40
PARADISE - £1142.00
POPTASTIC - £1131.00
REMBRANDT - £1128.80
TREE OF LIFE - £1100.00
VIGIL - £1003.10
MANTO - £911.80
WELLS FARGO - £770.70
BAR 38 - £761.90
BARBELOW - £683.70
BAR MED - £484.30
HELLFIRE - £450.00
PIRANHA - £447.60
GAIA - £423.70
BAR RISA - £421.30
TAURUS - £351.60
YATES WINE LODGE - £335.54
RETRO BAR - £301.60
NEW YORK - £264.00
VELVET - £210.10
SLUG/ LETTUCE - £141.90
HOLLYWOOD HOTEL - £137.30
BULLS HEAD - £116.60
CLONE ZONE - £53.80
ELECTRIC TATTOO - £6.30

MARDI GRAS 2002:
the money raised by various venues (totals on 2 Sep 2002)

LARGE BARS
£4,607.08 The Hollywood
£4,566.30 Via Fossa
£2,788.25 New Union
£2,502.81 Spirit
£2,019.70 Churchills
£1,759.33 The Rembrandt
£1,386,99 Prague V
£1,324.64 Bar 38
£802.96 Slug & Lettuce
£758.06 Bar Med
£347.38 46 Canal Street

£22,863.50 Total

MEDIUM BARS
£1,987.76 Metz
£1,723.89 Thompson's Arms
£1,101.35 Bar Baa
£1,090.73 New York NY
£820.89 Wells Fargo
£773.83 Bar Risa
£705.14 Gaia
£20.93 Tribeca

£8,224.52 Total

SMALL BARS
£1,712.94 Vanilla
£1,514.85 Company Bar
£1,397.09 Velvet
£1,375.53 Taurus
£695.25 Paddy's Goose
£483.90 [email protected]
£186.01 Barbelow

£7,365.57 Total

CLUBS
£5,574.09 Cruz 101
£4,694.84 Essential
£2,412.08 Legends

£12,681.01 Total

ONE NIGHTERS
£3,736.00 Uni Challenge (more to come)
£1,287.06 Vanilla Club Nights
£1,105.73 Paradise Factory
£1,090.00 Poptastic
£474.00 Sugar Pops
£360.00 Hellfire
£200.00 Homoelectric

£8,252.79 Total

ALL THE REST
£5,014.02 Volunteer Collections
£390.64 Clone Zone
£154.11 Hollywood Hotel
£28.31 Northern Waves
£26.44 Basement Sauna
£6.87 H2O Sauna

£5,620.39 Total

£65,007.78 Grand Total


EUROPRIDE/MARDI GRAS 2003

Operation Fundraiser figures:

£371,600
Ticket Sales

£15,610
Other Fundraising at EuroPride: (Parade, Vigil, nightclubs etc)
-----------
£387,210 TOTAL INCOME

LESS
£200,000
Contribution to EuroPride to pay for the security and costs of the "Big Weekend"

LESS COSTS
£30,341
Tickets, Wristbands and Box Office
£12,314
Staff Member and Admin
£16,865
Advertising, Marketing and Information

£127,690
TOTAL AMOUNT RAISED

I contacted the Festival Organiser several times between January and August 2004, by e-mail, mail and telephone. But she was unable to give me any detailed breakdown of that £200,000 'contribution' cost.

In March 2005 finally I was given a breakdown of Europride 2003 expenditure. Total costs were £556,000.

I was told by the Festival Organiser that there were no figures for venues in 2003, as funds were raised through the wristband. However, the Operation Fundraiser site later published this info.

I don't know if any of these collections financed the costs of Europride. Communications tend to go dead when you start asking about costs. But it does give an idea which venues are doing the most.

Date: 31st Mar 2004
Money raised so far in 2003-2004

April 2003

Poptastic's 7th Birthday Tuesday 1st April raised £1953.40
Bender @ Essential Saturday 3rd April raised £1521.35
Dabble @ Sankeys soap Wednesday 9th April raised £42.78
Legends Saturday 26th April 2003 raised £385.00

Easter Weekend 18th - 20th April
Churchills raised £264
Via Fossa raised £1879.06
Rembrandt raised £197.73
Cruz 101 raised £796.07
Poptastic raised £500.00
Sugarpops raised £350.00
Vanilla raised £240.45
Legends raised £213.85
Basement Sauna raised £18.43
Donation £50.00

May 2003

Bender @ Essential Saturday 3rd May raised £1654.16
Bears Weekend Saturday 3rd May raised £272.57
Legends Saturday 10th May raised £421.00
Taurus Sunday 17th May raised £121.48
Poptastic Saturday 24th May raised £323.65
Via Fossa Sunday 25th May raised £180.18
Spirit Sunday 25th May raised £900.12
Heat Sauna tin raised £12.80

June 2003

Bender @ Essential Saturday 7th June raised £1357.04
Taurus 12th June raised £150.10
Essential Birthday weekend Fri 20th & Sat 21st June raised £2072.58
Legends Saturday 28th June raised £345.00
Collection Tins
Bar Below £93.64
Churchills £14.57
Thompsons Arms £21.96
Rembrandt £51.72
46 Canal St £15.74

July 2003

Bender @ Essential Saturday 5th July raised £1304.28
Poptastic 12th July raised £700.00
Legends 26th July raised £239.28

August 2003 Non Europride fundraising!

Bender @ Essential Saturday 2nd August raised £1514.14
Legends Saturday 2nd August raised £365.00
Collection Tins
Churchills £32.42
Rembrandt £43.49
Prague IV £89.23
Gaia £27.87
Eden £31.39
Velvet £16.68
Olive £16.56
Tribecca £9.00
Thompsons Arms £20.71
46 Canal St £2.69
Spirit £32.21
Taurus £26.00
Heat Sauna £38.14
Basement Sauna £84.53
Wells Fargo £10.49
Europride Office £22.68
Clone Zone £91.57
H20 £58.53
Bar 38 £67.32
Velvet £43.40

September 2003

Bender @ Essential Saturday 6th raised £1221.69

October 2003

Bender @ Essential Saturday 4th raised £1311.63
Clone Zone Fetish night @ Via Fossa raised £310.71

November & December 2003

Bender @ Essential Sat 1st Nov raised £1433.07
Coyote's Fundraising night raised £1336.37

World Aids Day Fundraisers:
Hollywood Showbar raised £2609.24
Vanilla raised £319.27
Queer Bar raised £706.17
Prague V raised £376.51
Essential raised £1605.62
Thompsons Arms raised £317.57
Spirit raised £344.16
Manto Breakfast Club raised £412.00
Baa Bar raised £209.90
Poptastic raised £860.46
Rembrandt raised £123.31
Via Fossa raised £248.20
Clone zone raised £211.69
Paddy's Goose raised £35.85
Taurus raised £84.14
Cruz 101 raised £1070.00
Basement Sauna raised £600.00
Tom Thumbs raised £280.00
Essential Bender raised £1509.08
New Union raised £433.17
Red Ribbon Collection raised £1536.56
Candlelit vigil raised £742.23
Health Authority collection raised £36.64
Donation £23.00
Donation £20.00

Essential Sat 20th Dec raised £487.99
Via Fossa Mon 21st Dec raised £tbc
2004 - MANCHESTER PRIDE

2004 brought another change of name... Manchester Pride's 'Big Weekend' took place from 27th – 30th August. With some events in the week leading up to it.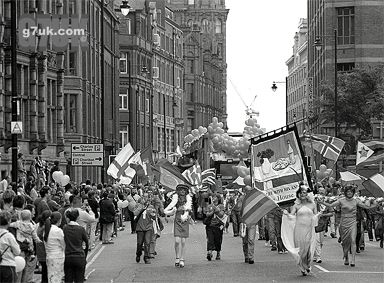 Posters talked of the 'village' not the 'gay village', 'Manchester Pride' not 'Gay Pride' and the bit about celebrating being gay, lesbian, bi or transgender was so small, you can't even read it in the picture below (it's under the word pride on the righthand side).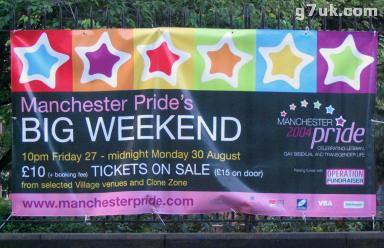 This all seemed reminiscent of the way things were back in 1999...

The entire Gay Village area was now fenced off and you had to buy a £10 wristband to get in. Now, if you can't or don't pay, you can't even walk through the gay village to see what's happening.

If Mardi Gras 1999 gave an estimated £20m boost to the local economy, how much were Manchester's businesses managing to screw out of the punters five years later? To put it another way... £20m divided by the 36,000 people who attended Pride 2004 would be an average spend of £555 per person. And yet the organisers claim that poorer people are not excluded from Pride...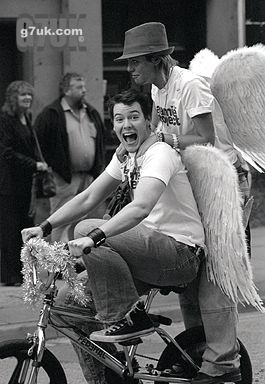 After the parade, people had to queue to swap their wristband for an entry ticket which would allow them into the Gay Village.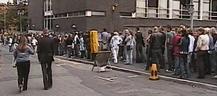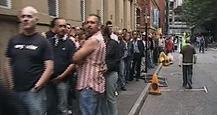 Some reported waiting in line for up to two hours. The queue (see photos right) stretched from Sackville Street, along Whitworth Street and up Minshull Street all the way to Portland Street.


Read about one woman's experience at Manchester Pride 2004 here (external link).

Finally, in February 2006, and only after the intervention of our Member of Parliament (who waited several months for a reply also), we received some information about how much money Operation Fundraiser had handed over to Manchester Pride in 2004.

This is the crucial information about costs that was missing from the so-called 'Annual Report' that Operation Fundraiser handed out at Pride 2005 (see below).

There was a slightly different arrangement in 2004. Operation Fundraiser agreed to hand over 50% of the money it collected through ticket sales and from collection buckets at the event. This 50% was £165,596 and it went to Manchester Pride to cover running costs.

Operation Fundraiser then spent £79,982 on its own running costs. Leaving just £129,426 for good causes.

Note that, in 2004, Operation Fundraiser's own costs are some £20,000 more than in 2003. Leaving a final figure for good causes that is just £1,736 more than the previous year. Quite a coincidence... Sometimes it feels as if there is a 'glass ceiling' on the amount that is allowed to go to good causes each year.

Only 34.5% of Operation Fundraiser income went to good causes in 2004

Due to the way it has grouped together Pride income and other income and grouped costs together too, Operation Fundraiser has made it difficult to calculate what percentage of the Pride ticket price goes to good causes in the end.

But what I can say is that out of Pride ticket sales and non-Pride year-round fundraising (£331,192 + £43,812), Operation Fundraiser spent 65.5% (£165,596 + £79,982) on costs and 34.5% (£129,426) went to good causes.

In the October 2004 issue of outnorthwest magazine, Paul Martin of the Lesbian and Gay Foundation refers to the '36,000' who attended Manchester Pride 2004. I think we can assume that refers to the number of wristbands sold. 36,000 tickets at £10 each...

It is a bit of a mystery about where collection bucket money fits in, as the £331,192 figure has been described as 'ticket sales' and the £43,812 figure as 'non-Pride' fundraising. But I think the aim of that is to hide the fact that 65.5% of collection bucket money goes to cover costs also.

The amount raised for good causes in 2004 is just a couple of thousand Pounds more than the previous year.

IS ATTENDANCE NOW DOWN TO ONE THIRD OF WHAT IT WAS IN 2002?

All kinds of propaganda is put out to justify fencing off the gay village and charging for entry. One is that it is necessary due to the 'alcohol bylaws'. But, strangely, other events in the city (such as the Christmas Market in Albert Square) have alcohol and are not fenced off, nor pay-to-enter. It seems the City Council can use bylaws to close off public roads during Manchester Pride, yet can't overcome the bylaws relating to alcohol? Other British cities somehow manage to run Pride events that are free to enter.

Every year, we are told that Manchester Pride has been the 'best ever'. However, here John Hamilton, the Chair of Manchester's Village Business Association, is quoted as saying 'over 100,000 people were estimated to have attended the daytime activities in the village over the weekend' in 2002.

Compare that to the 36,000 who bought tickets to enter the fenced-off gay village in 2004. It seems that, since charges were introduced, the number of people may have dropped to one third.

Or maybe they were fibbing about figures in 2002? Read more about what seem to be grossly inflated attendance figures over the years on my page here.

Public safety is another excuse that is used for charging for entry and fencing off the village. But if attendance is down so much compared to previous years, why is safety now such an issue? The fences and security people that patrol them are a huge cost.

The truth is, the entry charge is a meal ticket for numerous individuals and businesses that now earn a living on the back of Manchester Pride. From security, marketing, PR and design companies, through to z-list celebrities, full-time 'organisers' and charity employees.

The event has tripled its costs, raises no more for charity than it used to, attracts fewer people and excludes a proportion who can't afford it. How is that any kind of success story? It is all a far cry from the way this event started fifteen years ago.

MANCHESTER PRIDE 2005

Just before Manchester Pride 2005, Operation Fundraiser distributed a glossy leaflet around the gay village, entitled 'Annual Report'. Here is part of it.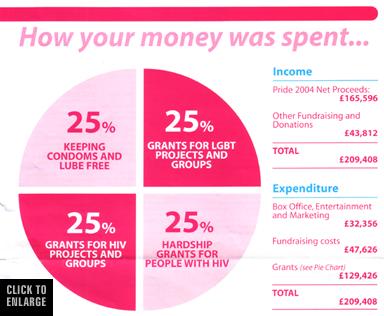 Although at first glance it appears to show how 100% of 'your money' was spent, something is missing from this pie-chart...

That's right... The £165,596 -- 50% of the ticket and collection bucket money -- that was collected from the public by Operation Fundraiser and handed over to Manchester Pride to cover costs in 2004 isn't included in this so-called Annual Report.

Under 'income' it says Pride 2004 'net proceeds'. The £165,596 shown is what is left after Operation Fundraiser has handed over 50% (also £165,596) to Manchester Pride to cover costs. Lots of people won't know what 'net proceeds' means...

So, the public gave £165,596 which this leaflet doesn't even mention and that sum disappeared into the black hole that is Manchester Pride costs. Operation Fundraiser is a group of charities, Manchester Pride is not a charity (it is part of the Tourist Board) and so it is not subject to the same strict regulations that govern charities.

It's easy to see how this situation could be abused. Currently we have no evidence that is being abused. However, a lack of information and accountability to the public only serves to make people suspicious. I can't understand why Manchester Pride and Operation Fundraiser are so reluctant to give the public information when they're asked (see below).

So, after Operation Fundraiser took its own costs out of the 50% that it had remaining, only about 34.5% of income from the public was left to be distributed to good causes in 2004. And, don't forget, those projects and groups will then take off their own costs from the money they receive.

In 2004, when a club night, such as Uni Challenge gave £1 of its £20 entry fee to Operation Fundraiser. In the end, only 34.5p of that Pound went to good causes and 65.5p was spent on 'costs' (in other words it was handed over to various businesses or went to pay wages). How many members of the public realise that?

By removing that huge lump sum from the income and expenses figures before they show their 'accounts' in that leaflet, Operation Fundraiser leads the the public to believe that costs are a much lower percentage of income than they really are.

What is the word for this trickery? It's all (probably) legal, although the Charity Commission is now looking into the way Operation Fundraiser does this.

In 2005, £120,772 was raised for good causes -- the lowest amount since 2002 and, when you allow for inflation, probably lower than some previous years. Here are the figures:

2005: £120,772
2004: £129,426
2003: £127,690
2002: £65,000 (free event)
2001: £70,000 or £100,000 - reports vary (free event)
2000: £105,000 (free event)

But, as usual, in 2005 the organisers found a way to put a false 'spin' on the facts and figures and hoodwink the general public into believing that Pride was more successful than it really was.

They realised that the amount raised in the days actually during the Pride 2005 event was more than the amount raised during the event in previous years. This was a golden opportunity for more of the usual 'best-ever' 'most successful' 'record amount' hype. So, on 6 October 2005, George House Trust issued a press release.

Here it is: Operation Fundraiser predicts record sum raised in 2005 at Manchester Pride.

Some money has always come in after the end of the event. But you may wonder why, more than a month after Pride finished, they were still talking up the amount raised during the event and 'predicting' that the final figure might be a 'record sum'.

The fact is, when all the money was counted (did that happen before 6 October?), the final figure was the lowest since 2002. But, when we checked eight months later, that 6 October 2005 item was still the only news on the George House Trust website regarding the amount raised.

That misleading 'record sum' news was picked up by the media. At Bent.com for example. It seems Bent.com never reported the updated not-a-record final figure.

On 2 September 2005, in an article 'Fantastic' gay pride festival sets record', the Manchester Evening News reported that the event had been the 'best ever' and the total stood at '£115,000 and rising'. It seems no mention of a figure raised has been made in the Evening News since.

The same article said that ticket sales were up by 50%. But how can that be true, when the amount raised for good causes is the lowest since 2002? It must mean that either costs were an even higher percentage than in previous years, or the 50% claim is untrue. As usual, lots of questions with no answers.

How many members of the public were left with the false impression that a record amount had been raised overall? George House Trust doesn't want to discuss this. But perhaps they will talk to the Charity Commission about it?

MANCHESTER PRIDE 2006

More spin

As the 2006 event approaches, the organisers have continued to put a spin on things.

To cover up the fact that last year's total for good causes was the lowest since 2002, on its website Operation Fundraiser adds together the amounts from several years:
'Since April 2003 Operation Fundraiser has given out over £400,000 worth of grants to over 80 HIV and LGBT charities and community groups...'
While, on its site, Manchester Pride tells businesses that 'Pride Parade is an ideal opportunity to put your business in front of over 250,000 people'. Yet on 2 September 2005, the Manchester Evening News wrote: 'one of the highlights of the (2005) 10-day event was the Key 103 Pride Parade through the streets of Manchester, watched by an estimated 50,000 people.'

Is it 250,000 or 50,000 people at the parade? Someone isn't telling the truth...

Ticket price - 50% increase for many people

And there's a big surprise in store if you are buying a ticket in 2006. Many people will end up paying 50% more than last year.

This is because, last year, the 'Big Weekend' was held from Friday 26 to Monday 29 August 2005 and tickets cost £10 until Monday 22 August (four days before) when they increased to £15.

This year, tickets were £10 only until 17 July. Then, five weeks before the event, the price increased to £15. And don't forget the booking fee that always applies.

The organisers decide to charge non-profit HIV organisations £50 to take part in the parade

Some of us haven't bought a ticket in years, because we object to the commercialisation of Pride. However we still went to the Saturday parade. As it takes place outside of the fenced-off gay village, we thought the parade was one part of Manchester Pride that the organisers couldn't destroy.

But, think again. It has emerged that the organisers have introduced a £50 + VAT charge for any 'non-commercial group entries to the parade'. Incredibly, the Parade Application Form 2006, which you can download from this link, clearly states that there is a £50 entry fee for any 'LGBT/HIV Organisation'.





In the face of mounting criticism in the national media ('Fury over £50 charge to join gay pride march' - The Independent), a letter from Andrew Stokes, the Chair of Manchester Pride appeared in the Manchester Evening News. In it he said:
'I feel it is important to clarify that the £50 charge applied to non-commercial LGBT and HIV group entries to the parade, it is not a charge that is levied per individual.'
However, in a report on the LGF website, he is quoted as saying:
'It is a charge for entry, whether there are 1 or 16 people'
So, it appears that a lone individual will pay £50 + VAT. These quotes are typical of the doublespeak that surrounds everything connected with Manchester Pride.

Seventeen years after this event was created to raise money for HIV organisations, those organisations and people now have to pay to take part. How twisted. This is very sad indeed and just yet another transfer of money away from the charities and to costs/businesses.

With costs up massively on what they were just a couple of years ago, less than 35% of ticket and collection bucket going to good causes, a 50% ticket price increase this year for many people, but businesses making tens of millions of Pounds out of Manchester Pride, Andrew Stokes then has the nerve to say:
'I would love to throw the biggest and best event in the world, but you are acutely aware that every pound you are spending is a pound less going to charities.'
Maybe he should ask the businesses and City Council to contribute a lot more, as they benefit so enormously? What about some transparency and honesty about what those costs are, how many tickets are sold, how many people actually attend and what percentage really goes to good causes in the end? So Manchester's gay community can have an informed discussion about Pride and what is wrong with it.

LATEST: 'Manchester Pride 2006 raises one of the lowest-ever amounts for good causes' (on my other website). The taxman has decided that Pride is no longer a charity event.


WHAT KIND OF EVENT DO WE WANT?

It's clear the charity income does not 'scale up' along with the size and cost of the event. So, do we want a smaller, more gay 'Pride' that has low costs and is completely free, but raises almost as much for good causes (£60,000 ten years ago and £105,000 in 2000)?
Or do we want to be 'financially gay-bashed' by big business? In which case we fund a huge festival to promote Manchester and line the pockets of commercial companies. With the word 'gay' down-played as much as possible and with some of the gay community excluded because they can't afford to take part?

It's pretty clear which the 'powers-that-be' prefer. For several years, the public has accepted the situation. But now there are signs that people are getting angry.

Money to run the event and money for charity should be completely separate.


WHAT CAN WE DO?

If you don't like what is happening, write a letter to a newspaper or magazine (the gay press or mainstream), leave comments on websites, contact your local Member of Parliament, complain to the Charity Commission or, possibly, the Advertising Standards Authority (if you are sold a ticket on the basis of publicity that says an event attracts 250,000 people, but there are really only 35,000-50,000 every year, isn't that misleading advertising?).
THE SILVER LINING

So who knows what the future holds for Manchester Mardi Gras, GayFest, Pride or whatever it may be called in the future?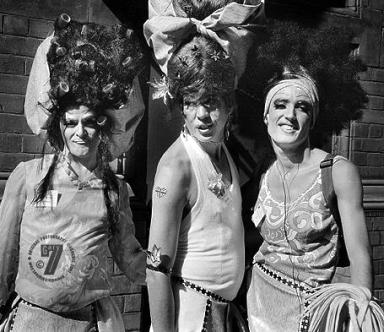 Despite the serious shortcomings in the organisation of the event, the one thing that does always shine through, is the contribution made by the hundreds of unpaid individuals. The people who give up their time to organise, sew costumes, build or appear on floats, run stalls or who walk around collecting money in a bucket.

These kind hearted people really do deserve something better than the current arrangement!

AN ALTERNATIVE PRIDE

If you're tired of the cynical commercialisation of our Pride event, now there is an alternative.


GIVING TO CHARITY

If you want to donate to a gay charity, buying a Manchester Pride ticket is maybe not the best way to do that. Instead, have a jumble sale like we did sixteen years ago and give the money direct to the charity of your choice. That way they get 100%.



LATEST NEWS

I don't always have time to add the most recent news to the article above. I'll put it here instead (most recent at the bottom):

20 September 2005

The Festival Director has left Manchester Pride and will pursue a 'freelance career in events, marketing and fundraising consultancy' after a long trip to Borneo.

6 October 2005

More than a month after the event finished, George House Trust reports a 'record' figure of £115,000 raised during Manchester Pride 2005. This hype is picked up by the media. In fact, when all the money is in, the final figure is the lowest since 2002 but the media fails to report this.

31 October 2005

A complaint about the running of Manchester Europride 2003, Manchester Pride 2004 and 2005 and Operation Fundraiser and their methods has been made to the Charity Commission.

29 November 2005

Can you find ANY figure for 2005 on either the Operation Fundraiser (external link) or Manchester Pride (external link) websites? I couldn't today. This all seems rather familiar doesn't it? I wonder if it will take 16 months to see any figures for costs again?

21 January 2006

The Charity Commission has decided there is 'some cause for concern' regarding Operation Fundraiser's accounting for the gross amount and is to look into the matter in greater detail.

We wrote to Operation Fundraiser by email twice last August with a series of questions. By January 2006 we still hadn't received a reply, so we wrote again with the questions. They replied, quoting our original email but didn't answer the questions. Can you think of any reason why a group of charities would be so reluctant to give the public answers to these questions? Here they are:

1/ Please can you tell me the gross amount (the amount before any costs) collected by Operation Fundraiser from the sale of tickets and from the collection buckets at Manchester Pride 2004 and at Manchester Pride 2005?

2/ Did Operation Fundraiser gave a lump sum contribution to Manchester Pride in 2004 and 2005 as it did in 2003 (£200,000 in 2003)? How much each year?

3/ Paul Martin was quoted as saying 36,000 people attended in 2004? Is this figure the number of tickets sold in 2004? How many tickets were sold in 2005?

4/ What does the 'Other Fundraising and Donations' figure on your Annual Report leaflet cover? Is this related to the Pride 2004 event? Does it include bucket collections during Pride or is that collection money included in the £165,596 figure?

22 January 2006

The final figure for the amount raised in 2005 is £120,772. This is the lowest amount since the current regime took control at the end of 2002. Allowing for inflation, it's probably a lower amount than in 2000 too:

2005: £120,772
2004: £129,426
2003: £127,690
2002: £65,000 (free event)
2001: £70,000 or £100,000 - reports vary (free event)
2000: £105,000 (free event)

However, Operation Fundraiser describes the 2005 figure as 'another record amount'.

23 January 2006

Manchester is to host a new arts festival starting in 2007. It's hoped it will compete with the famous Edinburgh Festival. Manchester City Council is giving (wait for this) £2m — 40% of the total amount needed to fund this festival. It's hoped it will bring £32m of business to the city.

Compare that to the £40,000 grant that Manchester City Council gave to Europride 2003. According to the City Council's own figures, in 1999, Mardi Gras brought an estimated £20m of extra business to the city.

That being the case, can someone explain why the gay community has to buy an entry ticket to fund Pride each year to the tune of £200,000?

The reason is, because the businesses, charities, tourist board and Manchester City Council know they can get away it...

11 February 2006

Today both The Independent and The Times carried stories about profits in Manchester's gay village being down 20-25%.

20 February 2006

On this page on its site, and after years of not doing so, Operation Fundraiser finally admits that only a relatively small percentage of income goes to good causes. They say 'once again in 2005/06 50% of the money raised by Operation Fundraiser at Manchester Pride will go directly to Community Futures'.

It would be nice if Operation Fundraiser could decide what it means by the term 'raised'.

In this grab from Operation Fundraiser's site in 2004 you can see they say that 'all' money 'raised' from the sale of tickets will be distributed to charity. So, in 2004, they used the word 'raised' to mean the money left after costs had been taken off.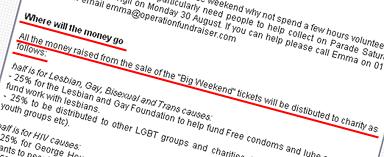 But now in 2005/2006 they say that 50% of money 'raised' will go to community futures and use the word 'raised' to mean the amount before any costs have been taken off. Is it any wonder the public is confused?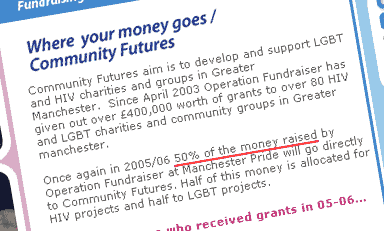 This screengrab dates from August 2006

And what exactly does 'community futures' mean? Certainly, 50% of income does not reach good causes. Operation Fundraiser keeps 50% of Pride ticket and collection bucket income. It then takes off its own costs, leaving about 34.5% of income from Pride to be distributed in 2004. 65.5% of Operation Fundraiser income went on costs in 2004.

In this screengrab (from August 2006) they say 'half' of the 50% is allocated for HIV projects and 'half' to LGBT projects. But it is only 'half' if the money is 'allocated' before Operation Fundraiser takes off its own costs. In 2004 Operation Fundraiser's own costs were £79,982.

After the costs it is half of 34.5%. Very misleading...

The latest trick is to focus on the total given out to good causes over a period of several years.
'Since Operation Fundraiser was launched as a year round fundraising initiative on April 2003 Community Futures has given out £279,811 to LGBT and HIV charities and groups across Greater Manchester.'
This hides the fact that Manchester Pride actually produced less for good causes in 2005 than in each of the previous two years.

16 March 2006

Fifty thousand partygoers' in 2005, says this page on the visitbritain.com website.

'Last year's festival saw over 50,000 revellers descend upon the city, and this year the number is expected to grow even more.'

50,000 people are supposed to have watched the Saturday parade, but I don't think you can honestly describe the grannies, mums, dads and kids who watch the parade as 'partygoers' or 'revellers'.

You couldn't get into the gay village area without a ticket, and charity income (from tickets) was down in 2005, compared to 2004 when only 36,000 people attended. So I suggest the 50,000 figure is untrue.

17 March 2006

I've added a new page about the hype surrounding how many people attend Manchester Pride. Figures published in the media vary from 36,000 to 250,000. I assume these figures originate from press releases and other publicity supplied by the Pride organisers.

Most interesting is a report from the Manchester Evening News, dated 2 September, which claims that ticket sales in 2005 were 'up by 50 per cent'.

As the charity income in 2005 was the lowest since 2002, and the charity income comes mainly from ticket sales, I don't see how sales can possibly have been up by 50% compared to 2003 or 2004 when 36,000 people attended?

I look forward to finding out... When you are selling tickets, I think any grossly-inflated claims made about the event are a serious matter.

12 June 2006

After researching back through years of copies of the Manchester Evening News (isn't the Internet great?) we wrote to Paul Horrocks, the editor, about the wildly varying attendance figures that have appeared in his newspaper over the years.

In 2001, the Evening news reported that 385,000 people watched the Saturday parade. But in 2005 just 50,000 people. Yet the same 2005 article describes 2005 as 'the biggest ever Manchester Pride Festival'.

We suspect the figures and hype came from press releases that were issued by the organisers and they were regurgitated by the newspaper without any further attempt to check facts. More than two months later we still await a response from Mr Horrocks.

One disturbing aspect of this is, in the future, journalists and historians will refer to the facts and figures that are published in past copies of local newspapers such as the Manchester Evening News.

17 July 2006

Tickets increase in price from £10 to £15 and it is still more than five weeks before the fenced-off Pride 'Big Weekend'. Last year the price increase happened four days before. This means many people will pay 50% more this year.

18 July 2006

The Independent newspaper reports on the outrage that has greeted the £50 + VAT fee for non-profit groups, HIV charities and single individuals to walk in the Manchester Pride parade.

29 August 2006

True to form, on 25 August 2006, the Manchester Evening News published another contradictory article: 'Record crowds predicted for Pride' (see it here). In it, they report:
'Early ticket sales suggest about 40,000 people will attend the four-day bank holiday event - smashing last year's record of 35,000 partygoers.'
A year ago, on 2 September 2005, the Manchester Evening News stated that ticket sales in 2005 were 'up by 50 per cent' compared to 2004. But now they say that ticket sales in 2005 were about the same as in 2004 (around 36,000 in 2004).

26 September 2006

This page from 2003, from Manchester City Council, claims that the organisers of Manchester Europride 2003 'estimated' that some 300,000 people would take part, 'with more than half coming from overseas'. It says that 'it is calculated that the event will be worth some £22m to Manchester's burgeoning cultural economy.'

How many people would come especially for the event and not buy a £10 entry ticket? Not many, I suggest... So that is a potential income of £3,000,000 from ticket sales.

This is the staggering bit: 'with ticket sales at this stage looking extremely robust, the Operation Fundraiser target of £30,000 to charities and organisations looks realistic'.

Can it be true that Operation Fundraiser ever had a fund-raising 'target' of just £30,000 at Europride? One-hundreth of that potential £3m income? As we know, the gay village was fenced off and ticket-only entry and, in the end, they only sold about 36,000 tickets. One tenth of that 'estimated' number.

It just shows what a total fiction these figures are. If they really thought they might sell 300,000 tickets, a target of £30,000 for good causes would have meant just ten pence from each £10 ticket going to good causes!

Even with the 36,000 that were eventually sold, that £30,000 target figure would have represented less than £1 from each £10 ticket. In the end, about £3 from each ticket went to good causes.

It amazes me that any intelligent person can write an article that includes these figures (£22m boost to the economy, 300,000 taking part and just £30,000 to good causes) and not think 'hold on something is going very wrong with this charity fund raising event'. But I think the truth is these PR people don't give a toss about things like that.

25 October 2006

'Manchester Pride 2006 raises one of the lowest-ever amounts for good causes' (on my other website). Pride is not a charity event anymore says taxman...



HERE ON GARYSEVENUK.COM:

PICTURES OF:

* Europride 2003 >>

* GayFest 2001 >>

* GayFest 2000 >>

* Mardi Gras 1999 >>

* Mardi Gras 1998 >>

* Manchester Pride - how many people actually attend?: it's almost as if they just think of a number and then double it.

* The cost of Manchester Europride 2003: this is the story of how I first realised things were going wrong with Manchester's annual gay event and the start of a struggle to get straight-forward answers from the organisers...

* The ugly side of Manchester Pride: the abuse of charities, high door charges, inadequate facilities, queuing for hours, huge profits for businesses. If you want to celebrate being gay, make sure you bring lots of cash...

* How to spin Pride - a 'users' guide: thinking of organising your own Gay Pride event? Here are some top tips and tricks on how to use charities to make the most money for your friends in business and at the local city council...

ON MY MAINSTREAM SITE AT G7UK.COM:

* Manchester Pride 2004: check out my Journal entry for 28 August 2004 to see a selection of the photographs I took at the Saturday parade. Plus three video clips to watch!

* Manchester Pride 2005: once again the Saturday parade on 27 August 2005
was the only part I went to. It's something free that everyone can enjoy, away from the money-grabbing bars in the fenced-off gay village. I got some great video, which you can watch. My photos were a disaster this year. Luckily my friends did much better and are letting me put up their pics instead :-)

EXTERNAL LINKS:

* Manchester's alternative Pride event.

* For One Irishwoman, Manchester Pride (2004) Meant Queuing -- read the experiences of a woman from Dublin who went to Manchester Pride 2004.

* NOW MEET THE REAL GAY MAFIA -- do some businesses, publications and organisations have a vested interest in lesbian and gay people remaining on the fringes of society? An article from The New Statesman written by Chris Morris. You may remember Chris as the teenager who took a test case to the European Court of Human Rights, protesting about the unequal age of consent. After mixing with the people at the top of Britain's gay community he reached these conclusions.

* THE GUARDIAN -- read about Europride in Manchester, August 2003

* THE VILLAGE CHARITY -- this website seems to be frozen in time at around 1996
(the website was recently removed. Here is a screengrab of it from July 2000).

* MARDI GRAS 95 -- see the programme of events for 1995
(the website was recently removed. Here are screengrabs: one | two).

* GEORGE HOUSE TRUST -- the HIV Voluntary Organisation for the North-West. Check the website for news of fundraising events throughout the year. GHT runs Operation Fundraiser with...

* The Lesbian and Gay Foundation -- doing lots of good work for gay Mancunians.

* New Start -- this magazine about community regeneration casts a critical eye over Manchester's Gay Village and those elsewhere.

* Manchester Parents' Group -- always have a float at Mardi Gras. Photos and movies on their site.

* MANCHESTER PRIDE 2005 -- this year's site. You may notice a mysterious silence about where most of the Operation Fundraiser income went in 2003 and 2004 (it went on costs). But they will be happy to tell you about how the (less than) one third of money that was left was distributed to charity.



All content is © Copyright GarySevenUK.com 1999-2006. Read more
here